It was the official start of CES 2018 on January 9th, 2018 and also my first time ever at CES! Woke up super early to get ready, had a delicious breakfast, put on my cute comfy outfit to head over to LVCC and start my CES  adventures. Learned a lot as a solo CES attendee and now sharing 5 important tips on this post to help you get prepared if you're planning to attend CES in the future. Fiver more tips on my next post – CES 2018 Day 2.

Tip #1: Download the app. It provides you with calendar, keynotes, media schedules, maps, attendees information and much more. This app saved me from getting lost in the halls, the detailed map was excellent and came in handy every single time.
It was a gloomy, cold rainy day in Vegas that day. But no one cared, I was excited and seemed like everyone else was just as excited to check out CES. A lyft driver told me it rained after almost 116 days! It felt like Las Vegas was celebrating this much-needed rain.
My first stop of the day was at the Royole booth. This booth was full of innovative and stylish finds. I was immediately drawn to this transparent cordless phone on display. It's such a beautiful concept. Wouldn't you like to see this phone in your stylish office? I know I would!
This keyboard right here is my dream keyboard. This is Royole's thinnest, lightweight, bendable, foldable and shatterproof full-color flexible display keyboard. Any tech that's easy to carry and serves a much-needed function is what I'm always looking for. It's another Royole concept that I would like to see in production soon.
This right here is what I need in my life asap! The Royole Selfie Stick that controls all camera functions, such as focus, front and rear camera selection, filter, recording, shutter and more right from the handle's flexible sensors. That means no buttons, the selfie stick becomes easy to maneuver with a swipe of a finger. I absolutely love the Chanel inspired chic design. This is soon going to be a must-have for all fashion bloggers.
Tip #2: I highly recommend wearing sneakers or the comfiest shoes you have. It's a lot of walking, lots! Even if you're in one hall, just going from one booth to another can be 5-7 minutes of walking. I also found it easy to carry a backpack rather than a tote or shoulder bag. It was easy to carry my external batteries (which you should always carry), snacks and important documents.
My next stop was at the Vivitar booth. Wireless chargers are soon becoming everyone's favorite because of the convenience. Checked out the many new wireless chargers Vivitar had on display at CES this year.
This is Vivitar's wireless charging clutch! You can store the phone inside and charge with the help of 4,000 mAh battery, it's Qi compatible and comes with a micro-USB input. Predicting this to be another fashion blogger must-have soon!
Never miss a visitor with the Vivitar's Doorbell Camera. It starts to record as soon as the doorbell rings. It can also be remotely activated. Built-in MircroSD slots can also record video locally. This doorbell camera also has motion sensor alert and night vision mode.
Tip #3: If you are attending the show as a media or key online influencer, you will be invited to attend booths for private tours. Make sure to plan out your meetings according to where the booth is located. There were 11 different locations where CES was held this year. I planned it in a way so that I attend most of the meetings the first day at the main convention center. I only used Lyft twice that day, once from the hotel to the Convention Center and the other at night from the Cosmopolitan to my hotel. There were also many free shuttle services, but the lines are extremely long.
Can't believe I didn't see this cute Polaroid Pop Instant Camera before! This camera has WiFi capability, self-timer, digital zoom, and prints full-color photos as 3.5×4.25″ Polaroid border format. A gorgeous digital upgrade from the traditional Polaroid camera. Definitely getting this as a gift for my sister's birthday!
The revolutionary ZINK® Zero Ink® printing technology is pretty impressive. The technology uses heat to produce full-color, high quality, long-lasting and smudge-proof photos! The photos print dry to touch and with a protective polymer overcoat.
Tip #4: If you are attending as a media or Key Online Influencer, you will have access to certain media lounges to charge your electronics, grab a bite to eat and book meeting rooms. I had to meet with a brand and we were looking for a quiet place to talk. I asked around and they informed me that I can reserve a time slot to use one of the meeting rooms. It was private, quiet and a perfect place for a meeting.
Omg this Jamoji Chocolate Swirl Wireless speaker! But is this really chocolate swirl? Hmmmmm…..
Ended my first day at CES 2018 by attending Polk Press Conference at the Cosmopolitan Las Vegas.
At the Polk press conference, the Polk Audio team introduced the new Command Bar. It's the latest home theatre sound system with built-in Amazon Alexa. The Command Bar is to be used in the living room, from where you can stream music, control smart home devices, search information, listen to an audiobook on Audible and much more. Works with 4K and HD TVs, this Amazon Alexa enabled device easily controls play, pause, volume and source selection with your voice – "Just Ask." The Command Bar is available to pre-order for $299.95, coming Spring 2018.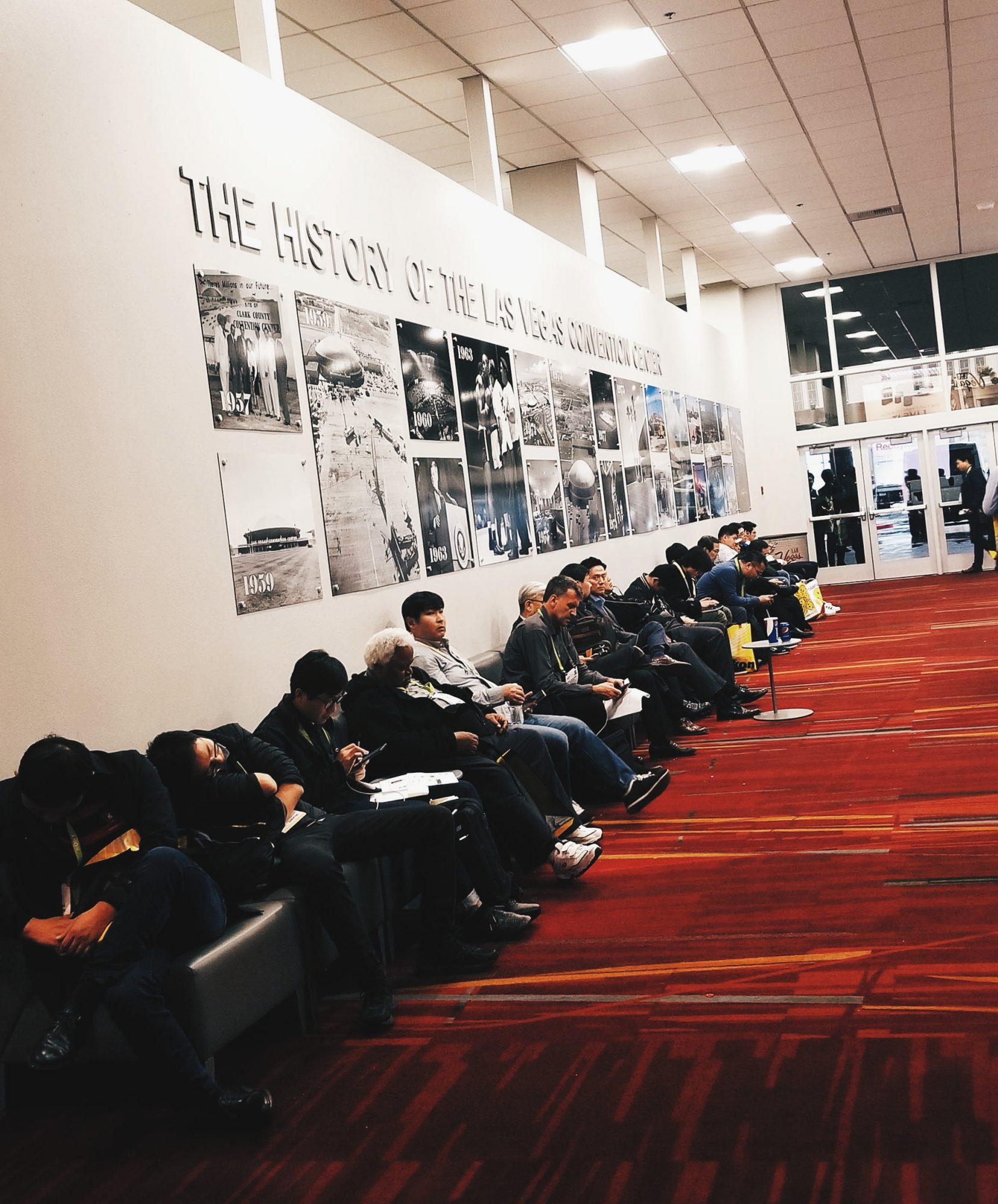 Tip #5: It will be a long day. Yes, it can be exhausting. There are chairs and sofas in every corner and believe me no one will judge you if you want to sneak a little nap.
Thank you CTA team for the invite and the amazing hospitality. Onwards to CES 2018 day 2.
xoxo, Afroza