The Abnormal Beauty Company, also know as Deciem now has a brick and mortar store in the Miami Design District. This brand is known amongst a core group of die-hard Deciem fans. I only learned about this company last year! And now I'm one of those die-hard fans. It's hard not to be one. The Ordinary (One of the brands under Deciem) is gaining more and more attraction from the beauty lovers everywhere. The prices are amazingly affordable, it's the most affordable skincare line that I've personally come across. Their amazing Vitamin C, Retinoid, Marula Oil serums all range from around $6-$10! Yes, it's ridiculously affordable.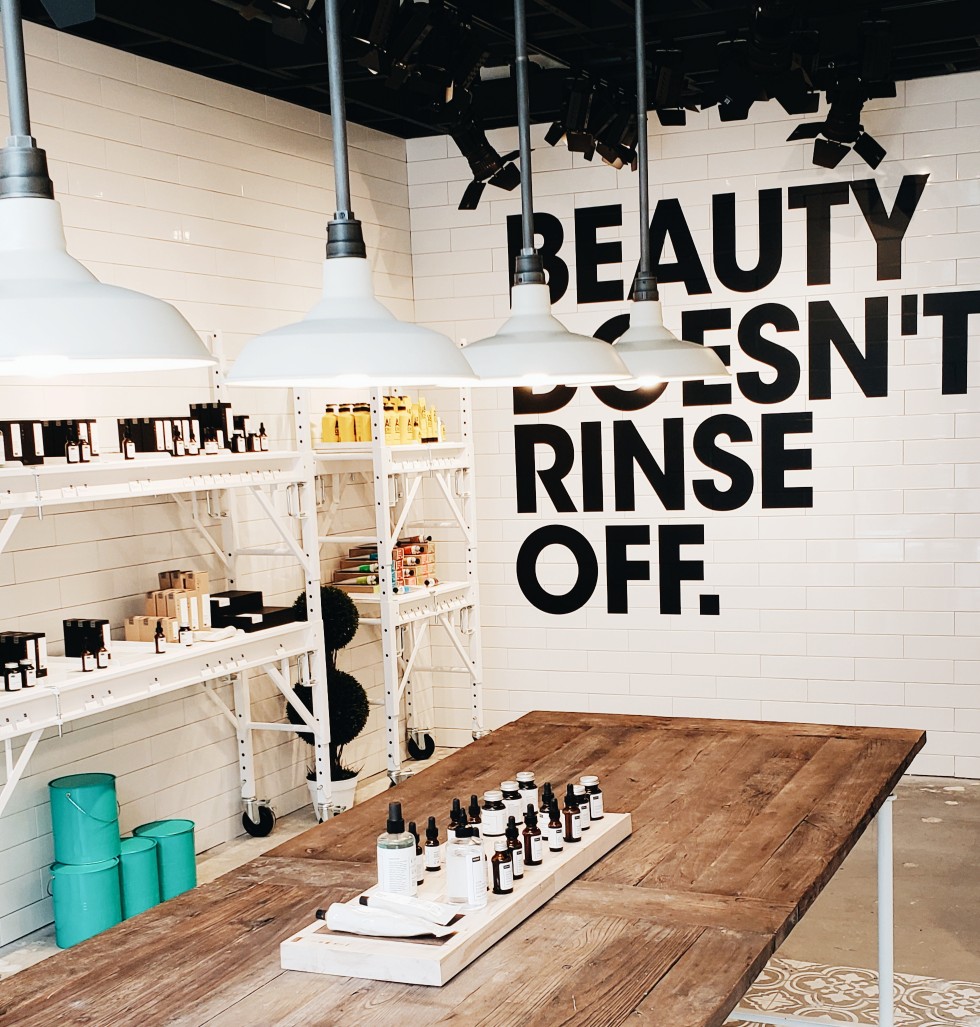 The Ordinary can offer such amazing prices because their products are produced, lab-tested, packaged and distributed from the same facility in Toronto, Canada. This allows them to cut a huge portion of the cost of spending. Also, the packaging is very minimalistic and to the point. The main ingredient is listed right on the front, there's no fancy name. The ingredients are what you're purchasing.
I went to the store recently to grab some new products and also some old ones that I've used up already. My all-time favorite is the AHA 30% + BHA 2% Peeling Solution – it's a 10 minute exfoliating facial that exfoliates, brightens and clears pores. The skin immediately feels smooth and soft to the touch. I use it once per week and I recommend doing this exfoliating facial at night.
The Ordinary Serum Foundation sells out continuously and at $6.70 it makes sense why. You can choose from a range of 21 shades, the serum foundations provides a lightweight medium-coverage. I love the natural feel of the color and the fact that it has a sheer matte finish.
Fountain Glow Molecule – The Fountain line has a variety of supplement in liquid forms. I don't take any vitamins and I really need to start. After doing much research, I settled on the Glow Molecule. I can't say enough good things about it! I'm on my second bottle now. The Glow Molecule contains a concentrated form of a reactive type of Glutathione that brings out a bright, youthful-looking glow within a week of use!
New Purchases are Granactive Retinoid 2% Emulsion and the Hyaluronic Acid 2% + B5. Will keep you guys posted on the these two highly recommended products by Google research and the store employees.
If you're in Miami, you're so in luck! You don't have to wait patiently for your order to come in the mail. You can just head over to the beautiful design district in Miami for your favorite Deciem products. I spent a good 45 minutes there, the store employees are so helpful and help you understand each product more in depth. I walked out with the Granactive Retinoid 2% Emulsion and the Hyaluronic Acid 2% + B5.
If you haven't tried their products yet, go to their website Deciem, do your research and make the small investment for a better skin. Their customer service is top-notch, so any questions you have they will help you determine the best product for your skin type. If you're already a fan of the product, let me know what's your absolute favorite from Deciem in the comment below. I would love to check it out.
xoxo, Afroza