My solo trip to Cartagena was everything I hoped for. It's a safe, gorgeous city with so much history. When I first booked my trip, I wasn't sure I would come across any vegan spots. I was planning on eating lots and lots of fruits and veggies. To my surprise, I came across some restaurants with amazing vegan option. In those places if you mention that you are a 'vegano' or 'vegetariano' they will understand. For vegans, definitely mention that you can't eat milk and eggs. So I pretty much went around saying "no leche y no huevos" (no milk & no eggs) – well it worked perfectly!
Here are 6 of my favorite places for food & drinks in Cartagena. Believe me, I had a hard time narrowing it down to only 6, there are just so many amazing options.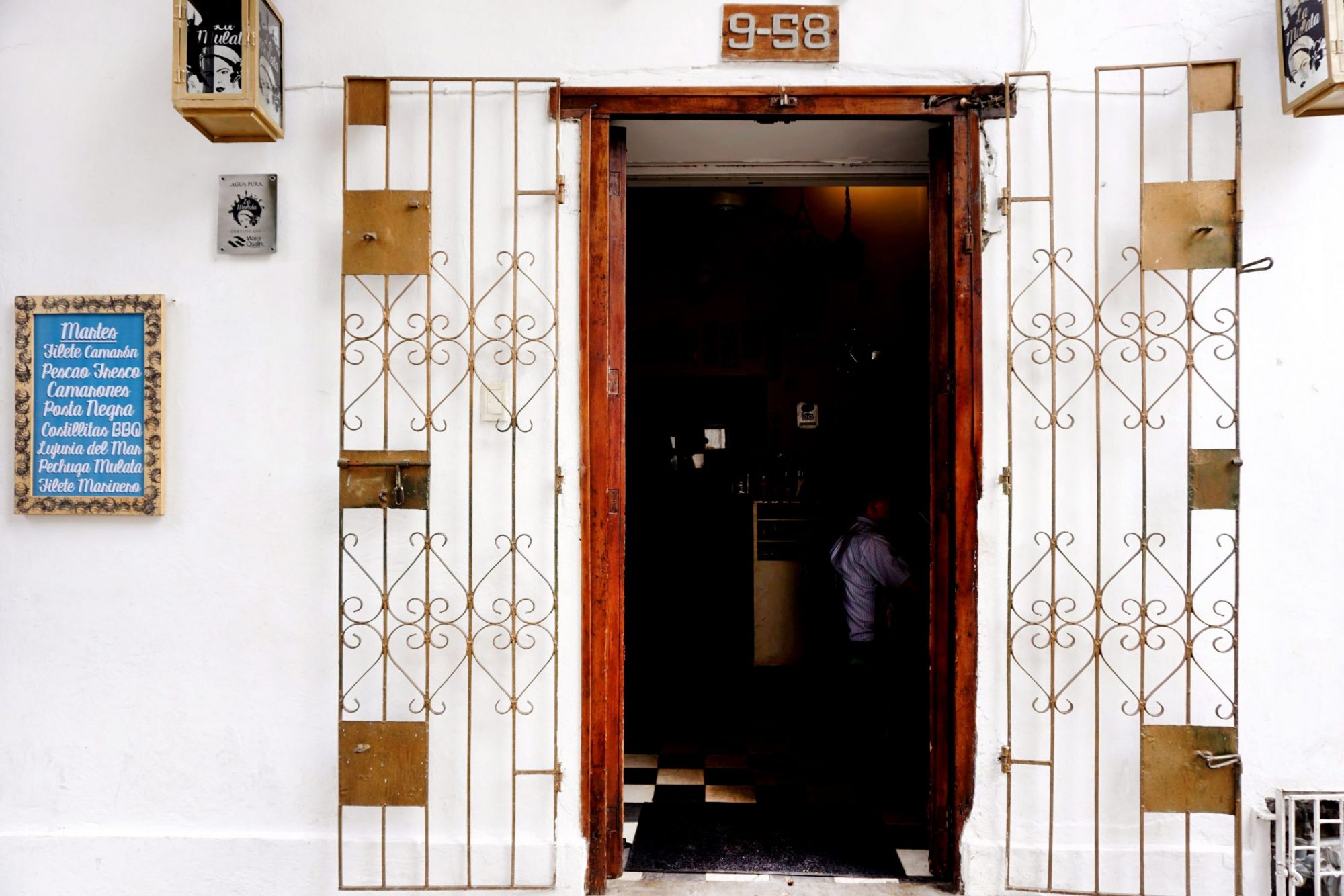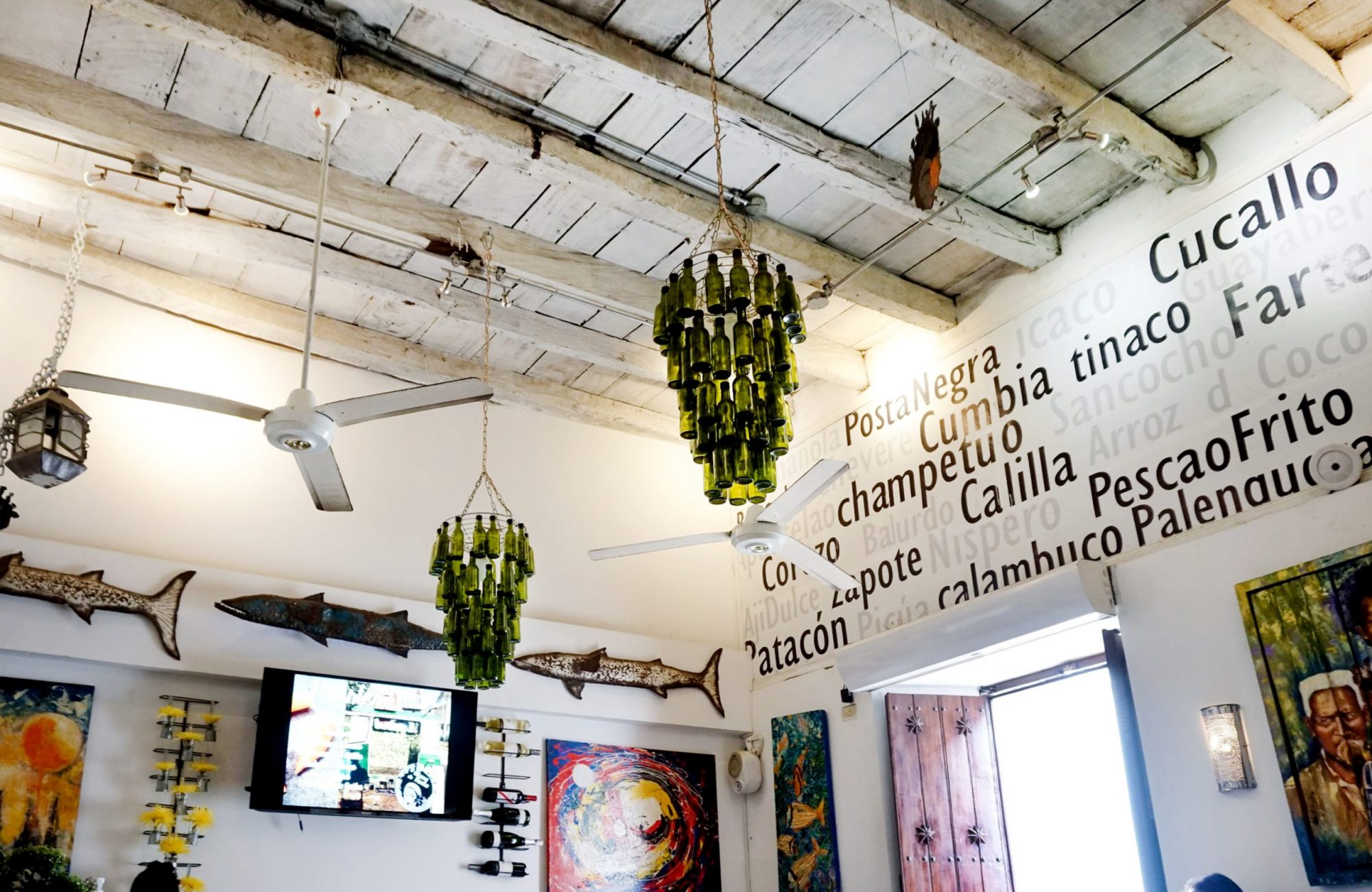 Thanks to my tour guide, the first restaurant I came across was La Mulata. She didn't know that I'm a vegan. I was just hoping to order salad, some plantains & mango juice for lunch. She recommended the restaurant because, La Mulata's chef hires hard working women and single mothers. When you enter the restaurant, you can immediately see the happy friendly faces all around. I was so shocked to see the menu, because right there in a pretty silver paper with bold cursive letter it showed 'Arroz Wok Vegano.' I didn't even hesitate, I ordered it right away! It was hands down the most delicious vegan meal I had so far. I'm not exaggerating! The coconut rice with mushrooms and vegetables was so so good. First day, first restaurant and the first meal in Cartagena – I was in love!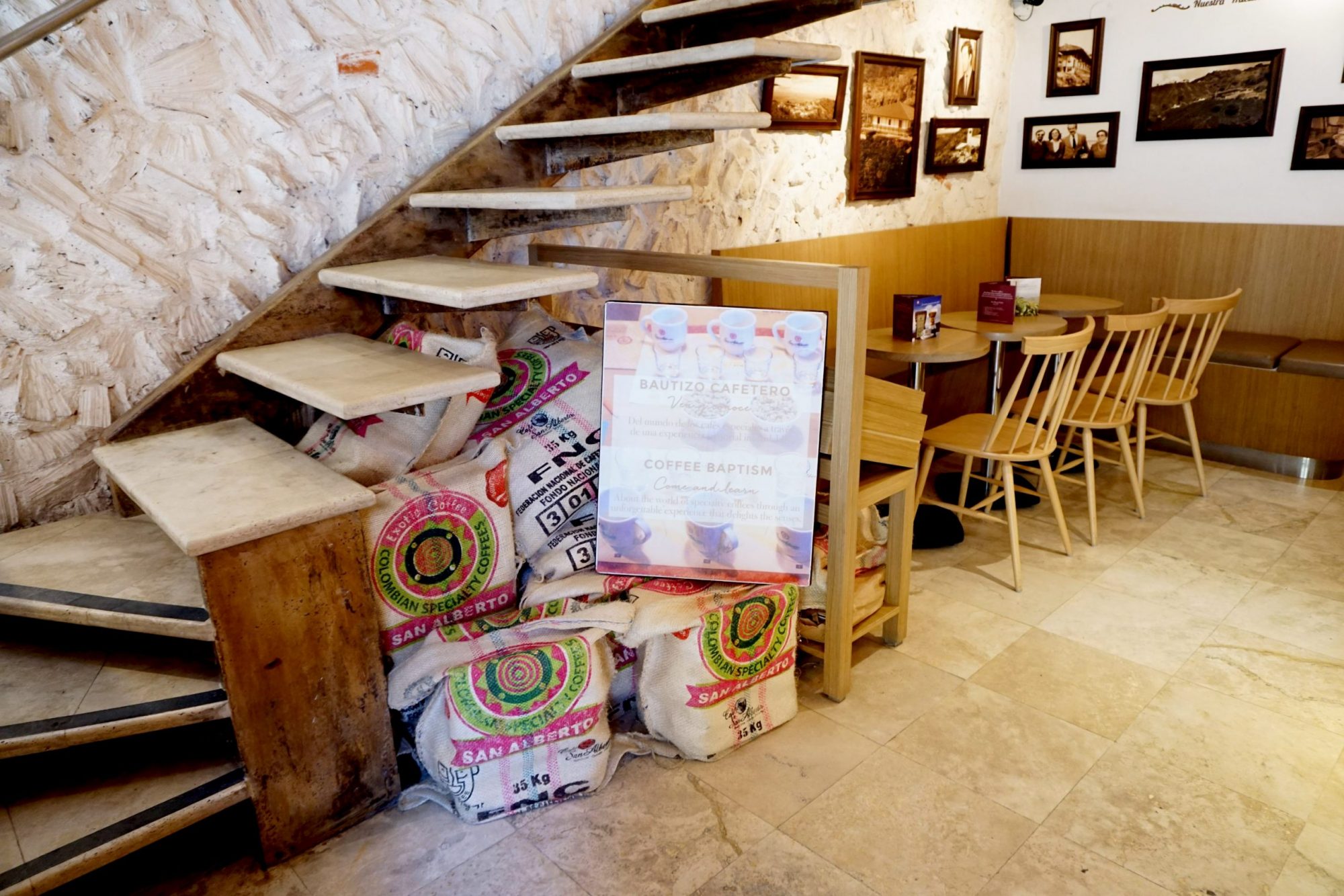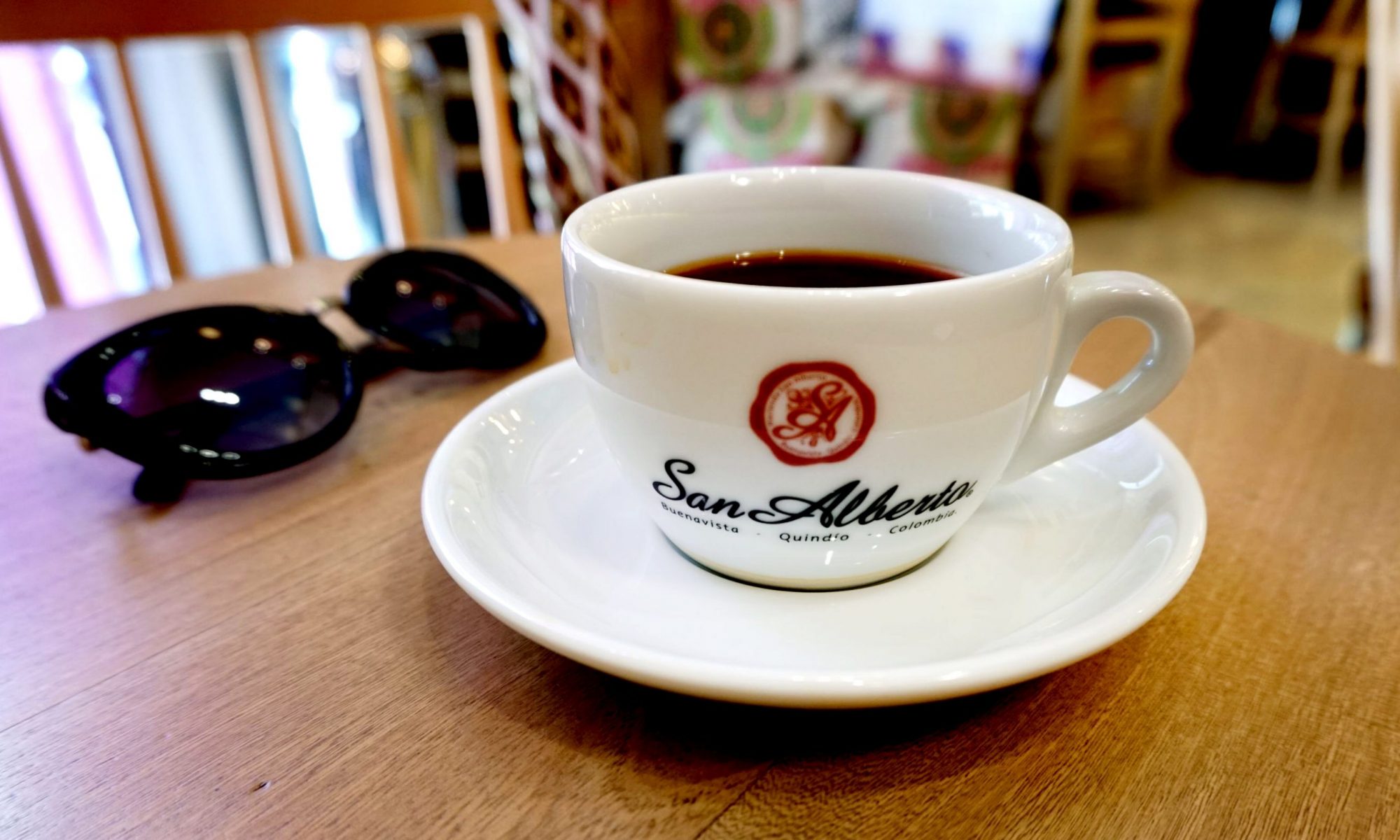 One day, I was walking around the city center and the strong aroma of Colombian coffee drew me in to Cafe San Alberto. It's a beautiful little cafe with knowledgeable staff. I wanted to try a latte with soy or almond milk (you know for drinking but mostly for instagramming purposes). But, unfortunately they didn't have any milk besides whole milk! I was so bummed, I had to resort to a delicious cup of black coffee. Yes, I love coffee in every form – I don't judge. Side note: I went to couple of other cafes and none of them had soy or almond milk. There is a good news though, keep reading!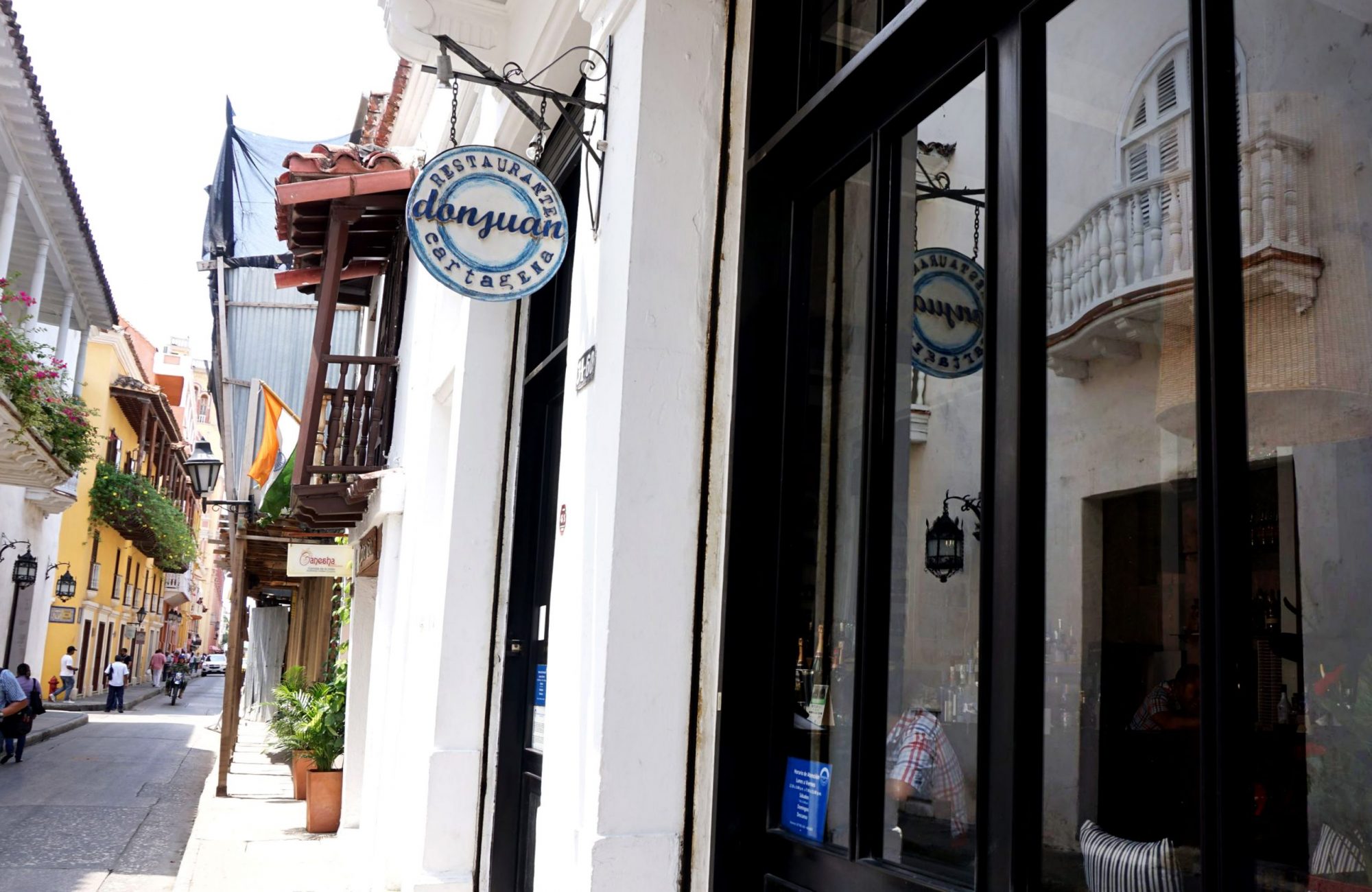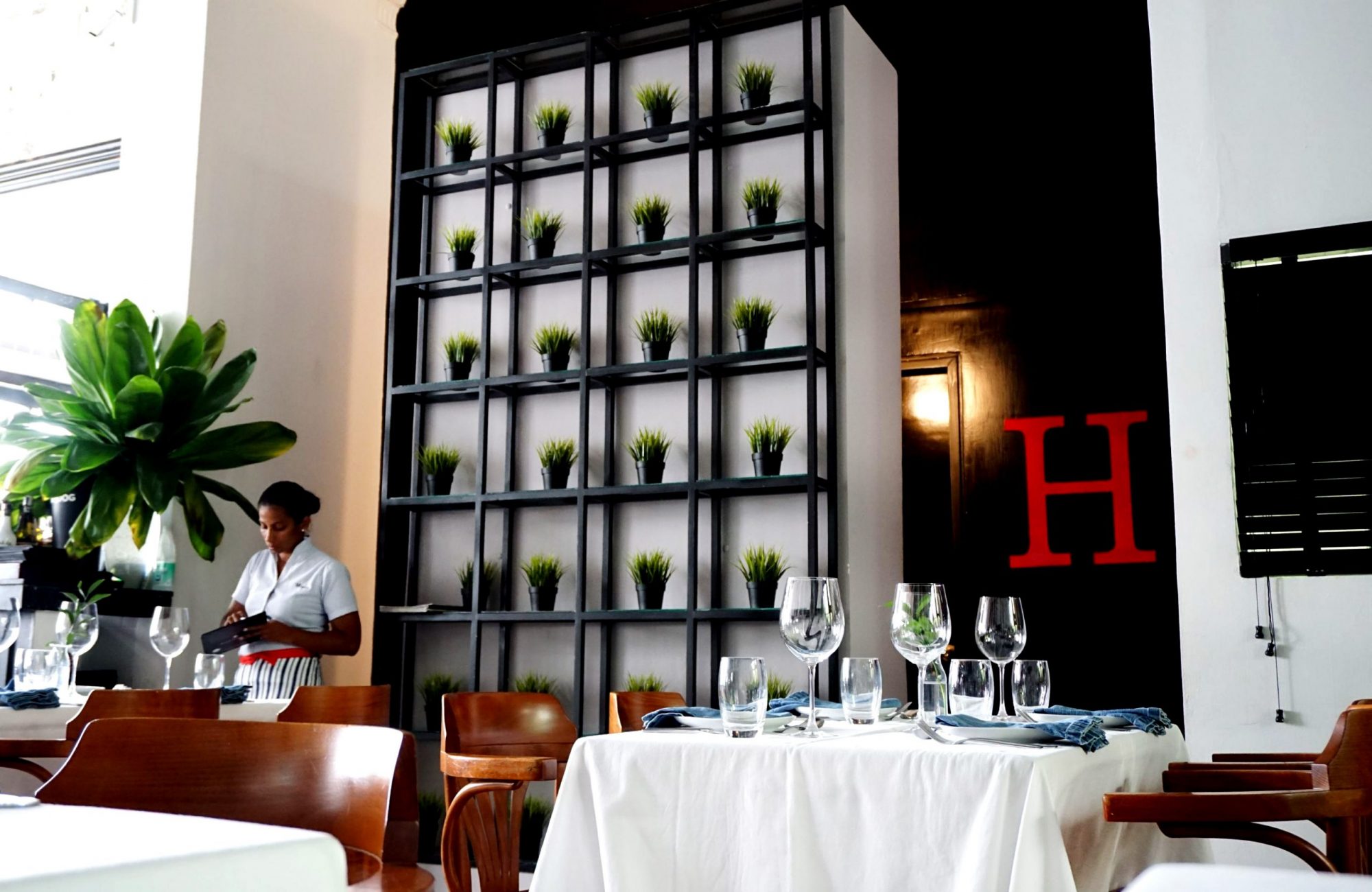 Another restaurant I came across while I was walking around the city. Honestly, I entered this restaurant, because A) I was hungry & B) it was extremely hot and humid outside. Again, I was just planning on ordering a mango juice and some type of salad. And again, the menu surprised me. Well, more like the staff surprised me. I told them in broken Spanish that I'm a 'Vegano, por favor no leche y no huevos,' They nodded like they understood, took the menu to the chef and came back to recommend the one vegan dish on the menu 'Salad of Green Papaya with tamarind vinaigrette, peanuts & noodles' – oh yeahhhhh!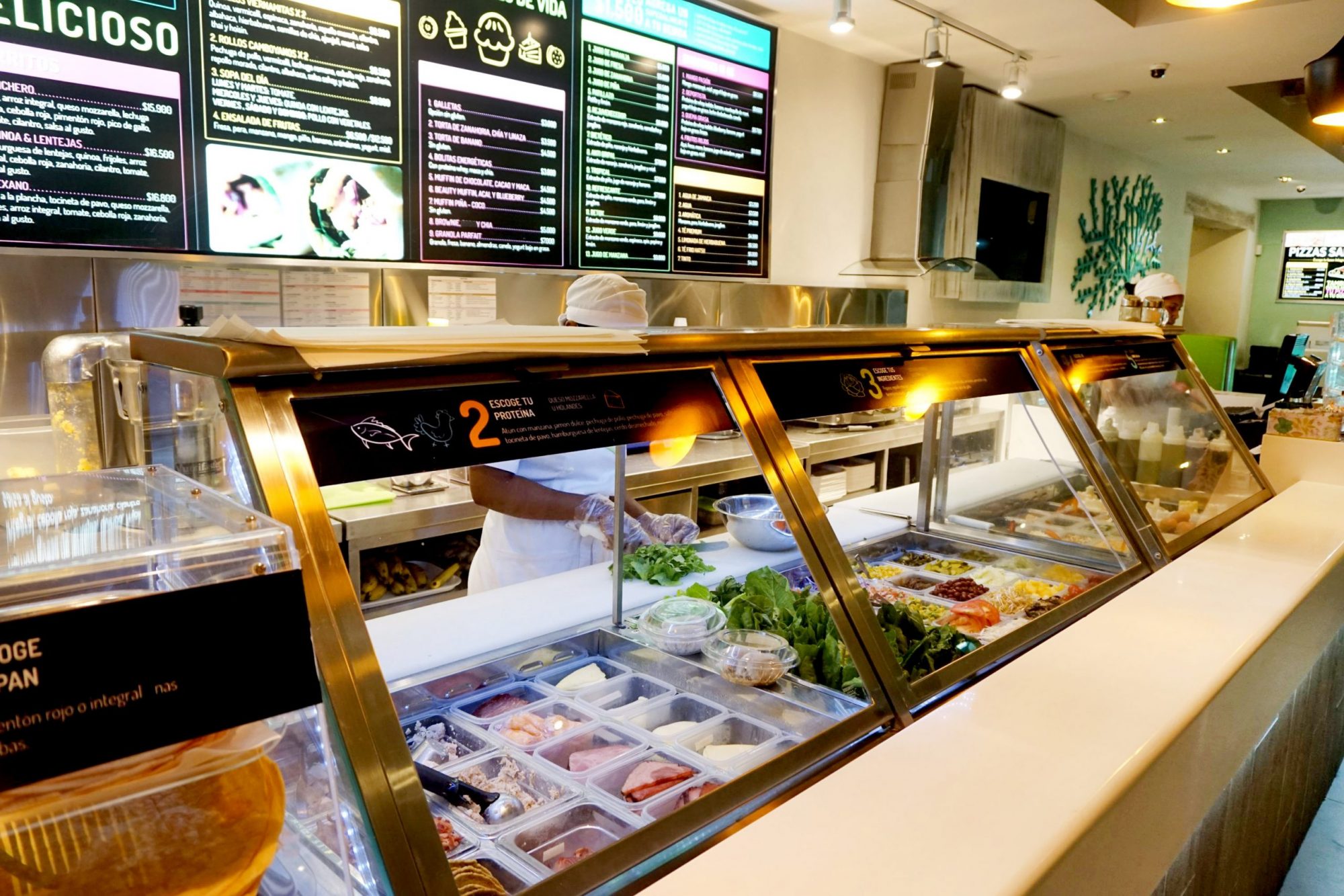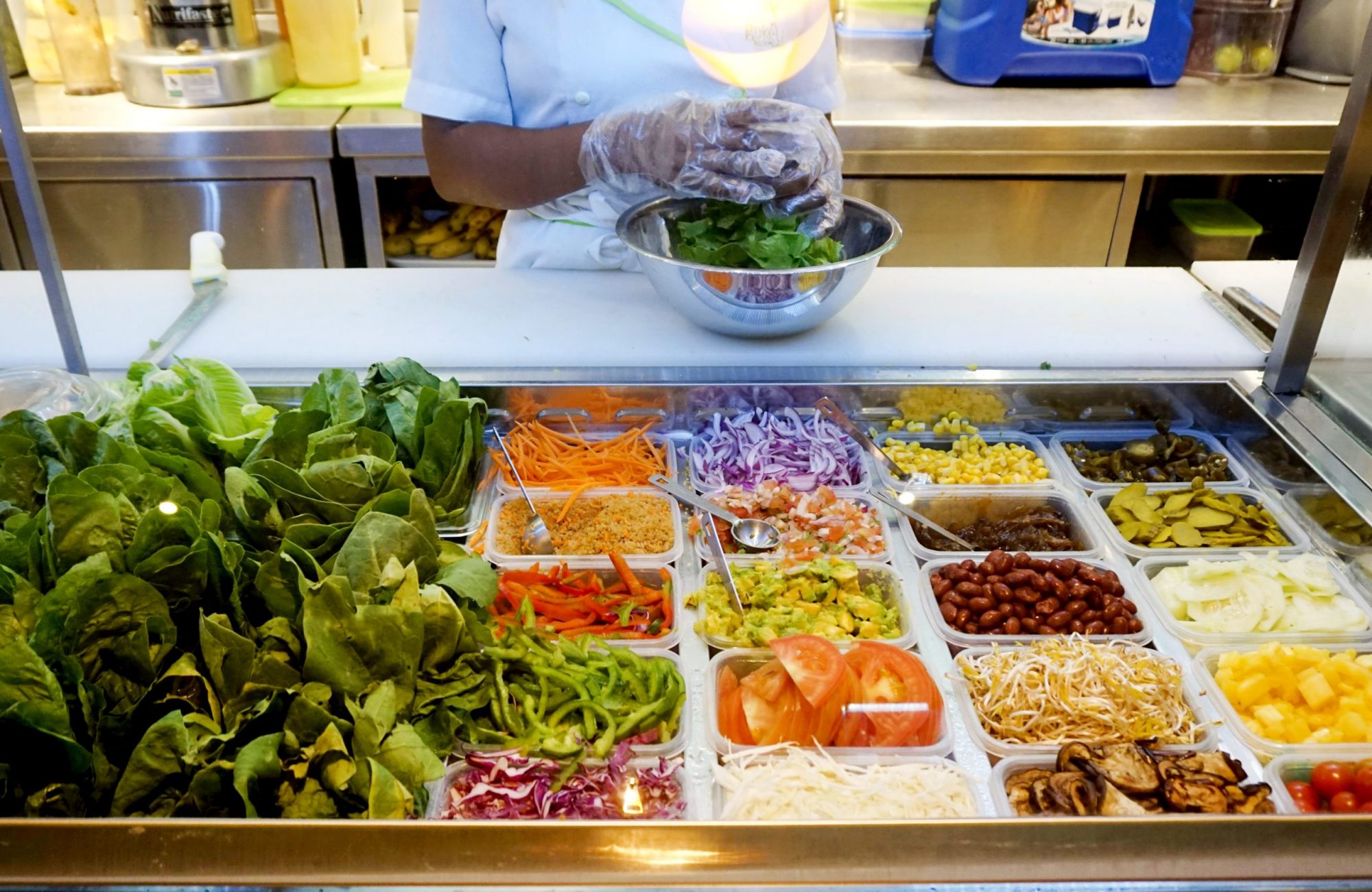 I wanted to spend a little more time in my beautiful hotel. So, I went on a hunt to find something fast and fresh and take it back to my room. I felt pretty lucky finding these places, because Gokela was exactly what I was hoping for. All I had to do was look at the menu and point at all the vegetables that I wanted in my salad. They didn't have tofu and I'm pretty sure they don't know what tofu is, but they did have 'hamburguesas de frijoles' or 'bean burgers' that they chopped into pieces and added to my salad. For dressing, I went with a side of spinach dressing and black olive dressing. So so so good!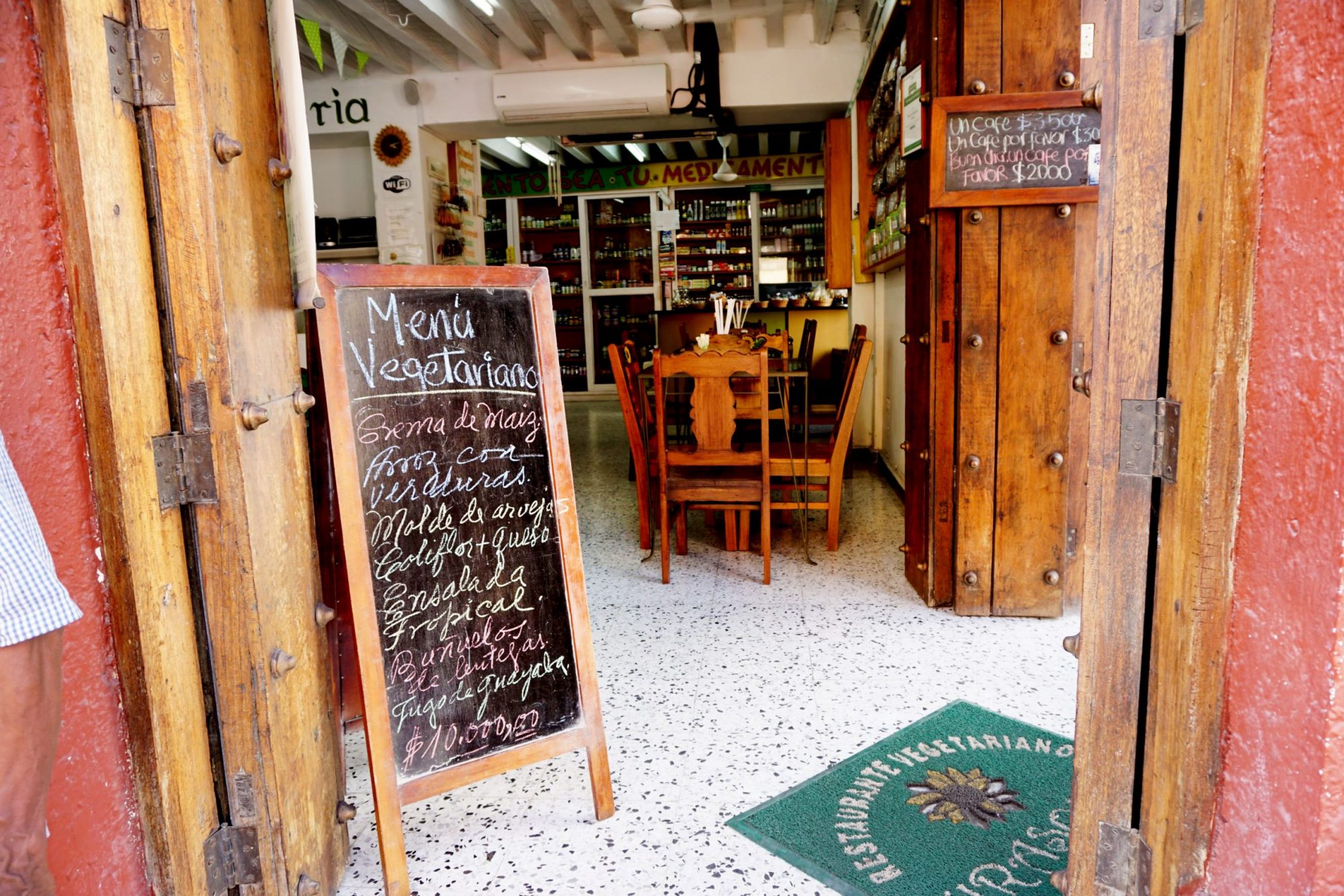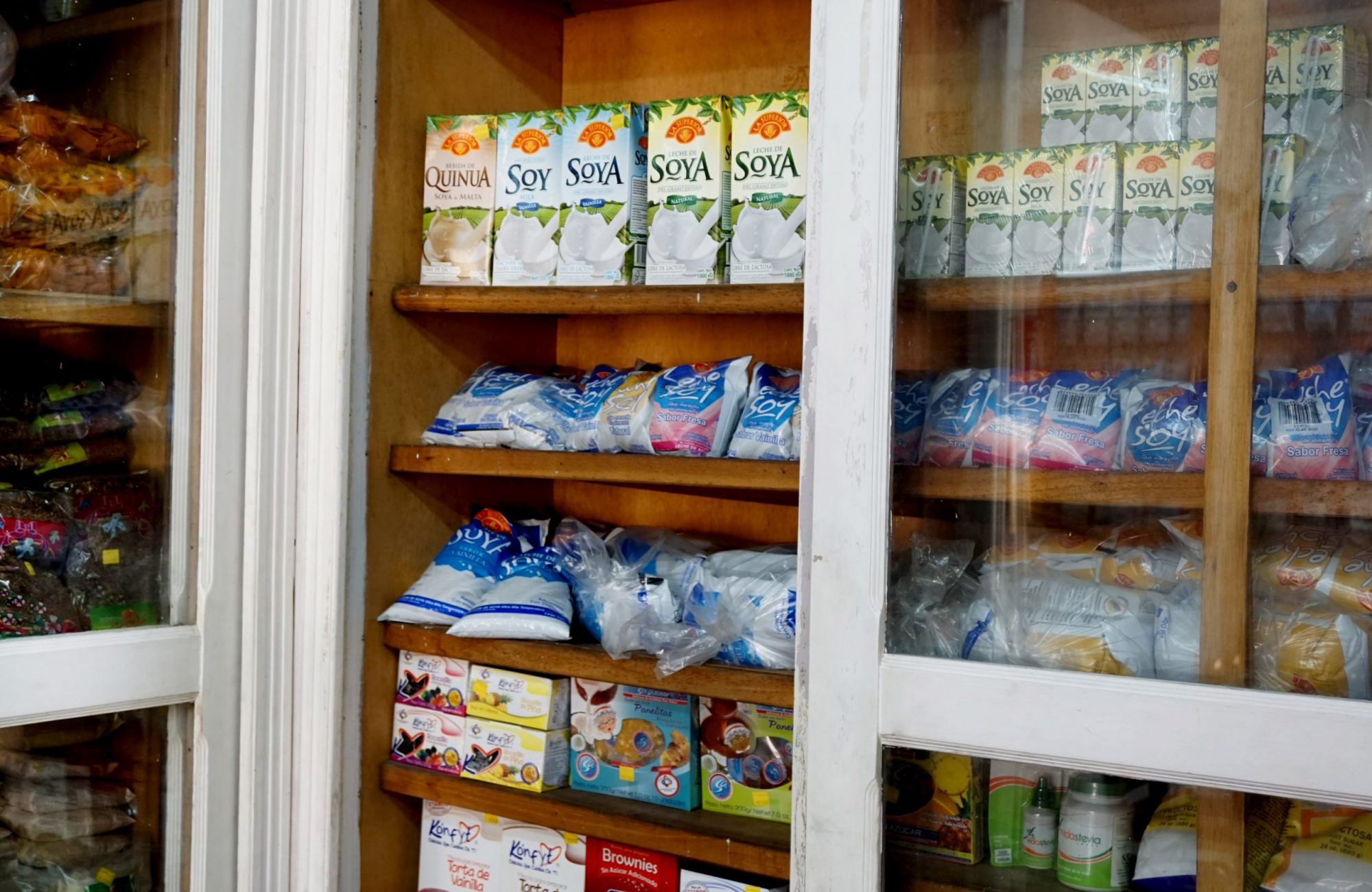 Known as the vegetarian spot in Cartagena. Girasoles was pretty much recommended to me by everyone who realized I'm a vegan. And it is the most vegan & vegetarian friendly place for sure! It's a restaurant and health store with takeaway counter. I found my soy milk and other vegan snack options at Girasoles.
6. Movich Hotel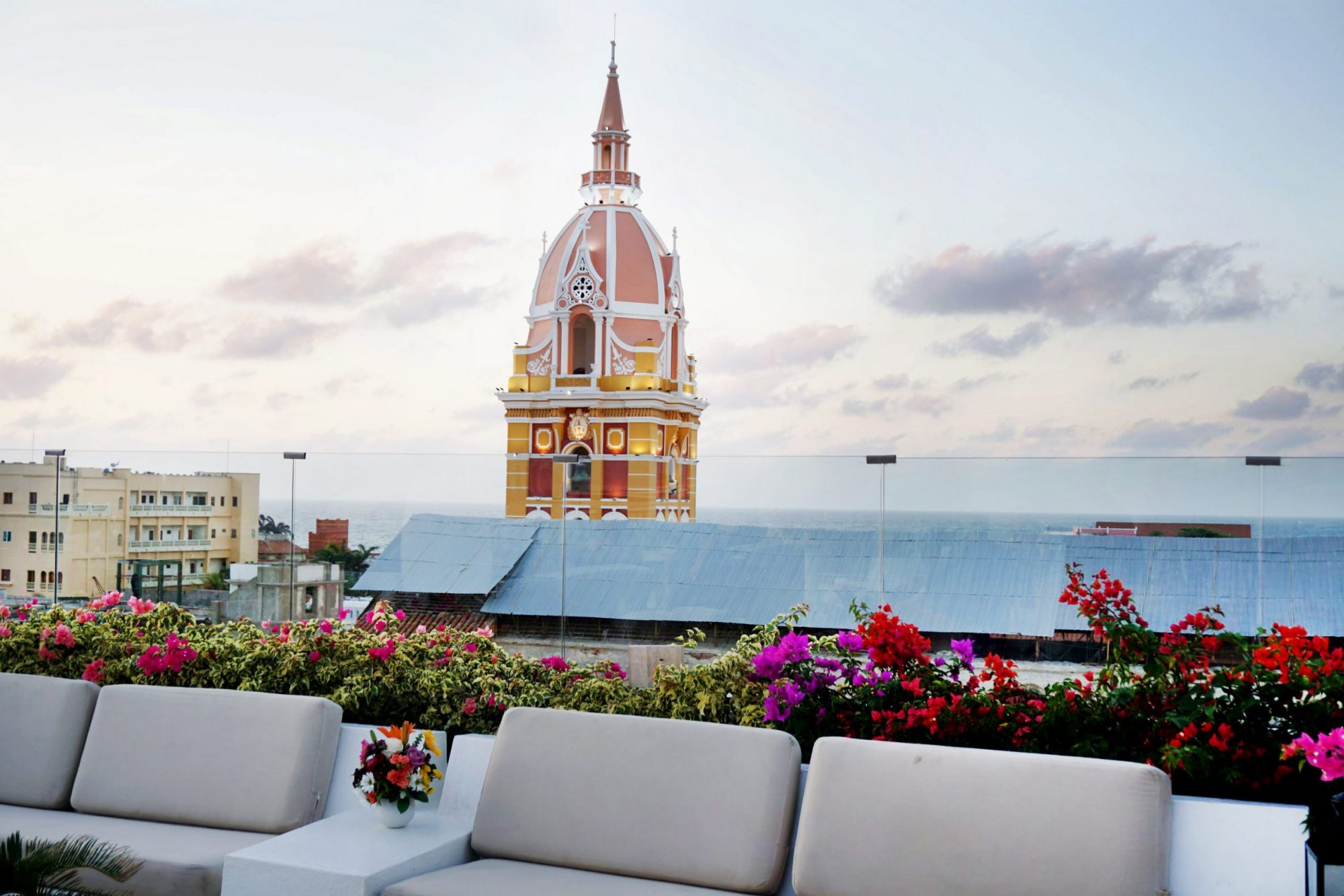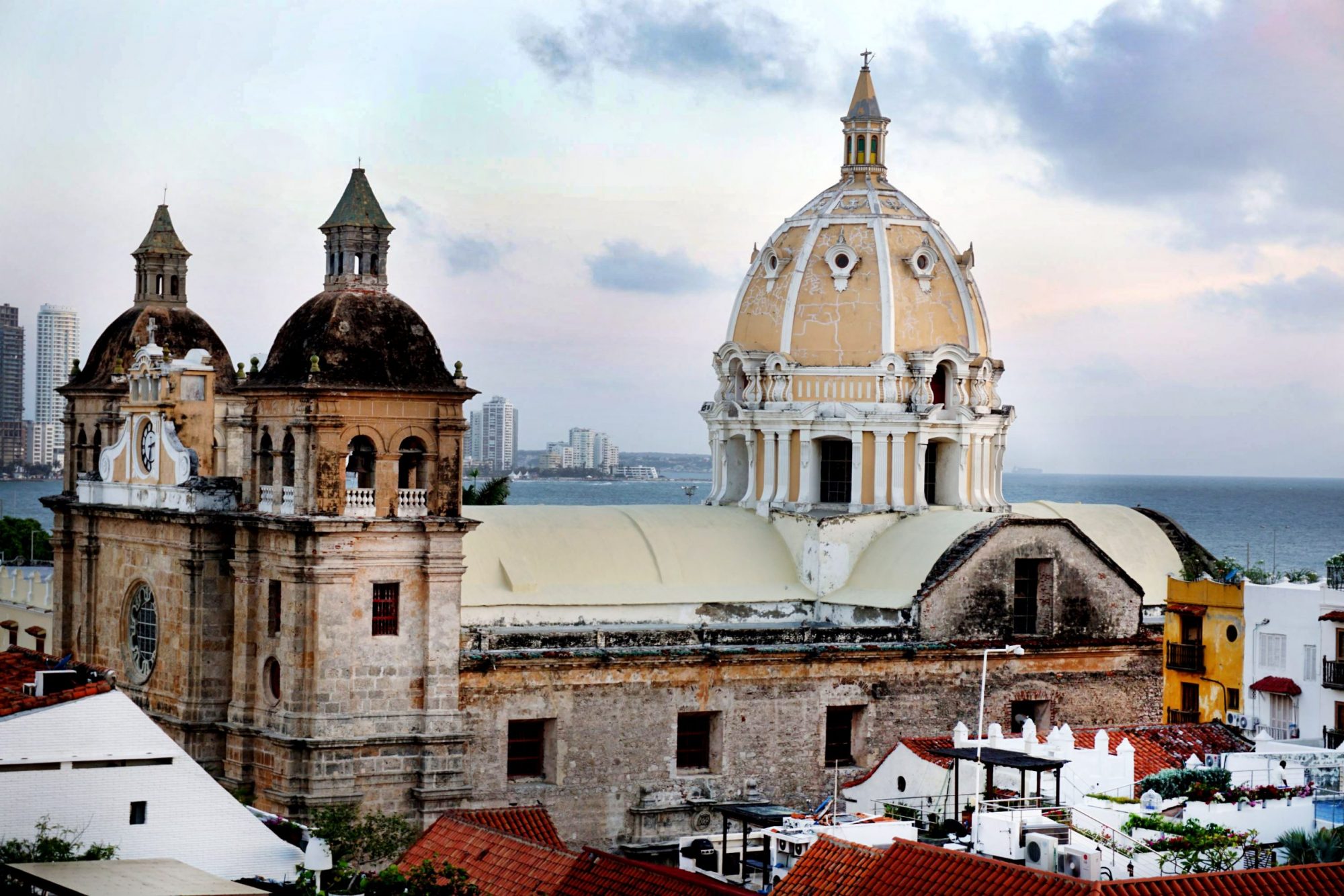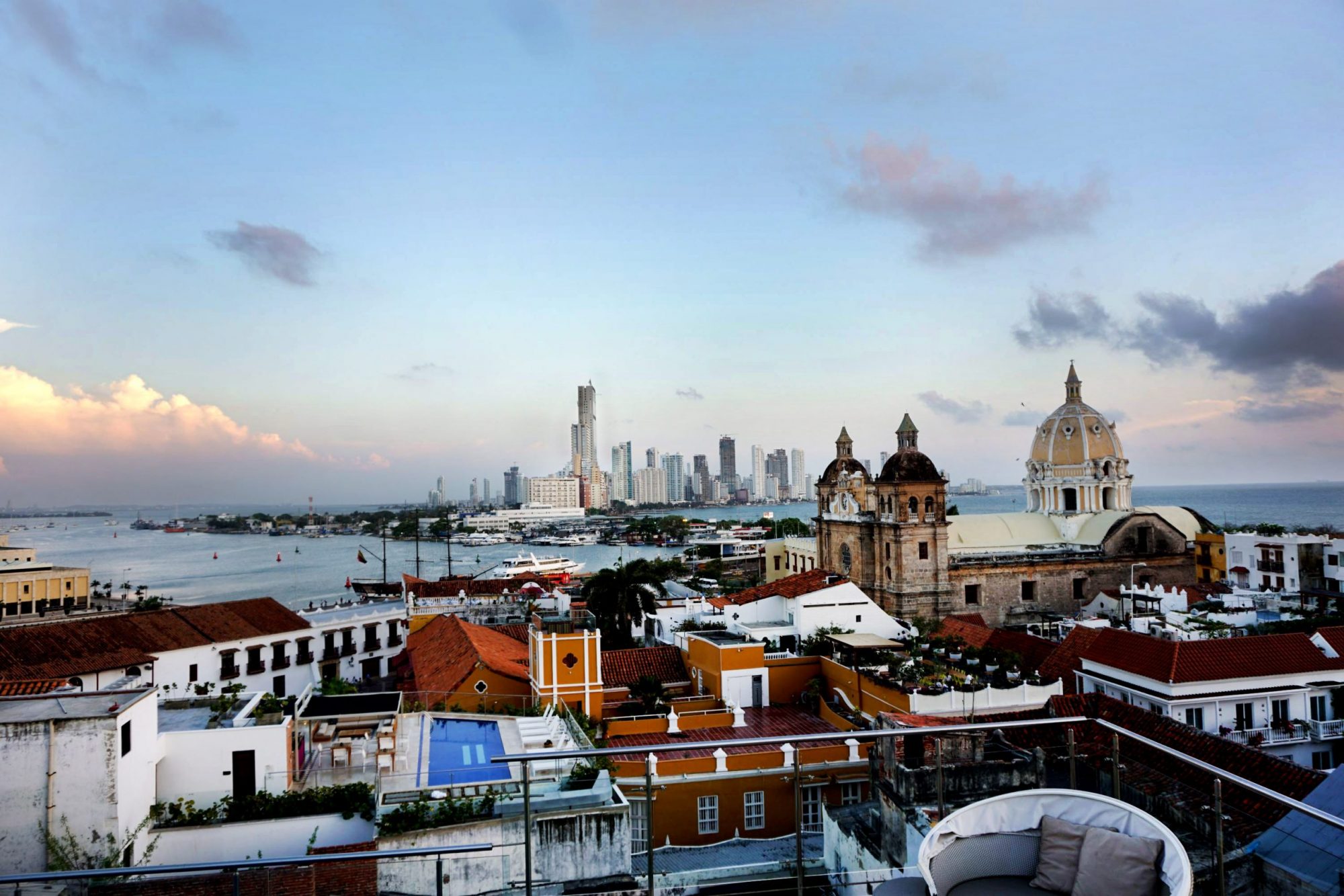 I definitely recommend ending one or all of your nights in Cartagena on the Movich Hotel rooftop. The sunset view from each angle is just breathtaking. You get to see the cathedrals, old city streets and the view of newest developments called Boca Grande (looks like a new Miami Beach). I spent my last night on the rooftop with a glass of Lychee Champagne and ended the trip with the best memories and a beautiful sunset.
All photos taken by me,
xoxo, Afroza